A miracle occurred in my kitchen this past weekend; I decided to face my fear of yeast.
I've been seeing yeast-iful recipes on my reader for ages but never had the nerve to try them. Finally, I found this recipe for hamburger rolls on
Annie's Eats
. Luckily, I somehow failed to notice her note about not recommending this to an inexperienced yeaster like myself; I never would have attempted this otherwise!
I do absolutely agree with her observation, however, that I needed to add more flour than the recipe calls for. I also wish I had kept them in the oven for a bit longer; I took them out right at 15 minutes. They did have that golden color, but they look more like dinner rolls and less like hamburger rolls.
They were still damn yummy, though, and I just might never buy hamburger rolls again!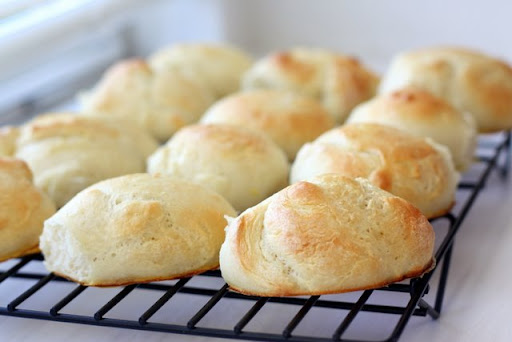 Ingredients
1 tbsp. sugar

2 ¼ tsp. instant yeast

¼ cup warm water (105°-115°)

1 cup warm milk (105°-115°)

1 tbsp. vegetable oil

1 tsp. salt

3 to 3 ¾ cups all-purpose flour

1 egg beaten with 1 tbsp. cold water

sesame, poppy or caraway seeds, or coarse salt, for topping
Directions:
In a bowl of an electric mixer, dissolve the sugar and then the yeast in the warm water. Add the milk, oil, salt and 1 ½ cups of flour to the yeast mixture. Beat vigorously for 2 minutes. Gradually add flour, 2 tablespoons at a time, until the dough begins to pull away from the sides of the bowl. Switch to the dough hook and knead until you have a smooth and elastic dough, about 7-9 minutes.
Transfer the dough to an oiled bowl. Turn once to coat the entire ball of dough in oil. Cover with a tightly-woven dampened towel and let rise until doubled, about one hour.
Turn the dough out onto a lightly oiled work surface. Working with oiled hands, divide the dough into 9 equal pieces. Shape each piece into a ball, and flatten into 3 ½ -inch disks. For soft-sided buns, place them on a well-seasoned baking sheet a half-inch apart so they will grow together when they rise. For crisper bun, place them three inches apart.
Cover with a towel and let rise until almost doubled, about 45 minutes.
15 minutes before you want to bake the buns, preheat the oven to 400°. Just before baking, brush the tops of the buns lightly with the egg wash and sprinkle with any desired toppings.
Bake for 15-20 minutes or until the internal temperature of the bread reaches 190°. When the buns are done, remove them from the baking sheet to cool on a wire rack. This will prevent the crust from becoming soggy.
* Note: This particular dough should be quite slack, i.e. very relaxed in order to make soft and tender buns. So you want to add only enough more flour, past the 3 cup point, to make the dough just kneadable, sprinkling in only enough more to keep it from sticking to you or the work surface.